The Expo is right around the corner, and setup starts very soon. Before setup, we'll send you a notecard with landmarks as well as hunt objects and store info boards through group notices.
Once you land on the Expo sim, locate your parcel or shop. They are assigned in advance, so look for your logo.
Platinum, Gold, Silver and Bronze sponsors have parcels to build on. These are covered with one or more prims with your logo on. The space these prims cover is the space you have to use. Buy the prims for 0L to set up.
Next to the sign outside your parcel or shop space is a blogger box. Buy this too, for 0L, and follow Plato's video below for detailed instructions.
The Expo is a gigantic event, and there WILL be lag. Therefore, we do not allow any scripted landmark givers, subscribers etc at the expo. To make things a little easier for you, we'll provide store boards that you can use instead.
All donation items must be sold through official RFL Home and Garden Espo vendors, and these must be set up in a particular way. Luckily, it's easier than it used to be, and Plato Knows the howto!
All Gacha machines are placed in the Gacha area on Hope 2. Just like parcels, they are assigned in advance, and set for sale for 0L. An instruction video will be published soon.
A box with Gacha scripts and instructions has been sent through group notices. Please read the notecard for instructions about how to set them up
The Expo hunt runs on all Expo sims, and is voluntary, but free for all exhibitors. Hunt itemshave been sent through group notices, and should be placed inside your space, and the 3d Logo shape should be placed next to your sign to indicate that there is a hunt item to be found. Hunt items will cost 10L each, with 100% donation to RFL.
Rez your hunt object, and rename it with your store name if you want to. Check that it is set to the Expo group, grant debit permissions, and put your hunt gift inside. Hide it where you want inside your shop or parcel.
While hunt hints are voluntary, we hope you will fill in this form with your hint https://goo.gl/forms/J32RDI2DLc4KjNWR2 The hints will be published in the online shopping guide.
The expo website has a shopping guide section where we will publish your vendor textures for all 100% donation items, and up to one Expo exclusibe new release. We will also publish gacha keys and pictures of your exclusive Auction items. We expect to publish more than a thousand pictures, and to manage this in the short time we have available, we need your help.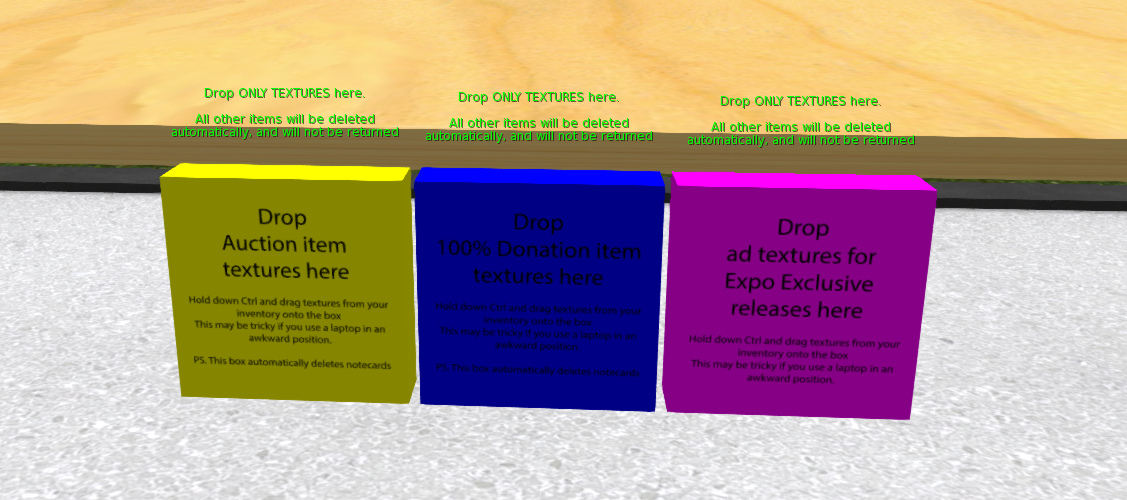 There are dropboxes for textures near the center of every sim. Please drop your textures into the correct box on YOUR expo sim. If you use a box on a different sim, your items will be placed on the wrong page, and shoppers won't find them, and we don't want that to happen! The box for Gacha keys is red, and placed near the gachas.
The shopping guide will be published the day before the Expo opens.
We have a flickr group for previews and blogposts https://www.flickr.com/groups/2878750@N25/ and our facebook page https://www.facebook.com/HomeAndGardenExpoSL/
You are welcome to use both to maximise the exposure